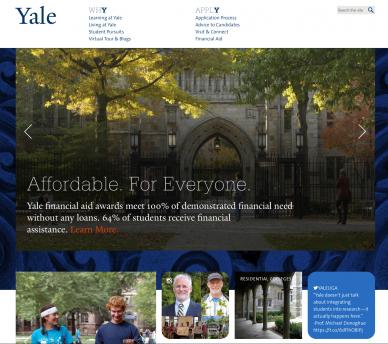 Yale College Undergraduate Admissions
The Client
Yale College Undergraduate Admissions, Mark Dunn, Associate Director
The Project
Yale College Undergraduate Admissions needed to update their site design to provide a mobile-friendly way to navigate admissions content. 
Read the Monday Morning News article about this project.
The Solution
A full site build, completed with the assistance of a designer from the Yale School of Art, was the perfect solution to refresh the site design and ensure that the site meets Yale Standards for usability and accessibility.
Total Time
Six months, completed between May 2015 to November 2015
Visit Project Website
The new site improves the experience for all users, and is an absolute game-changer for mobile users, who were previously pinching and dragging their way through a non-responsive site.

Mark Dunn

Associate Director

Yale College Undergraduate Admissions